Dear Friends, 
I hope you are enjoying the pleasant easing into Spring with the long awaited warmth filtering through the air.  Today I got to sit in the sunshine by the beautiful Maribyrnong river and enjoy a meal with some friends and nursing colleagues of mine.  I then wandered to Poynton's nursery to soak in the colours and the perfume of beautiful plants, but also to buy 6 metres of black netting. I need the netting to wrap around the plants that the possums have shredded. They are destroying my garden on a daily basis.  Every new tender leaf or shoot is eaten, and I am frightened that my garden will not be filled with flowers over the coming months.  I am determined to get the better of these pesky pests and have my garden filled with flowers. It reminded me of a Rumi poem on my calendar  ...something about savouring 'the sweetness after grief', and I am determined to savour the 'Sweetness' that is coming my way. 
There is a special birthday celebration happening on SATURDAY 25TH AUGUST.  The Quiet Man is celebrating 20 years of Irish song and music at the pub in Flemington.  Kathryn and I have been running the Singers' Session there for more than half that time, and we would like you to pop in and celebrate with us and The Quiet Man.  We kick off the afternoon with song at 4.30pm and Drantan and the musos are on at 7.30pm... we will all join in for a 'hooley' till the late hours so you are welcome to join us at any time. Details are on the flyer and the pub is on Racecourse Rd in Flemington.  If you intend staying for a meal, you are advised to book.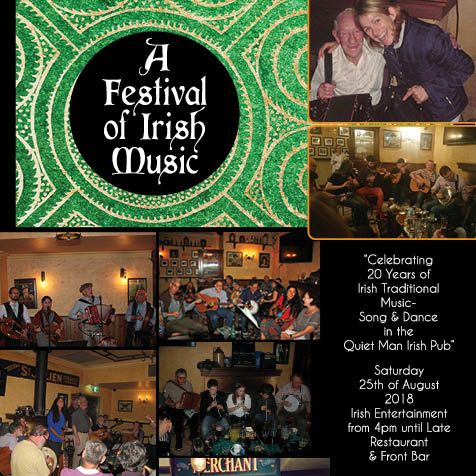 Kathryn and I are also playing a special gig on Saturday 1st September @ 7pm at the Habitat Uniting Church in Canterbury.  I will open the evening with a set of songs, Kathryn will then launch her new cd, which will see her debuting her original songs from her new cd "Songs of Hope and Haven".  There will be a break for wine and some nibbles, and then Nancy Bates will close the evening with her set.  Nancy is an Indigenous performer who has worked with Archie Roach.  Funds raised from this concert will assist Nancy in a musical project with Indigenous women in prison as well as assist Habitat in providing for those experiencing domestic violence.  Tickets can be pre-purchased through TryBooking or can be purchased at the door.  This will be a very special evening and I do hope that you can join us.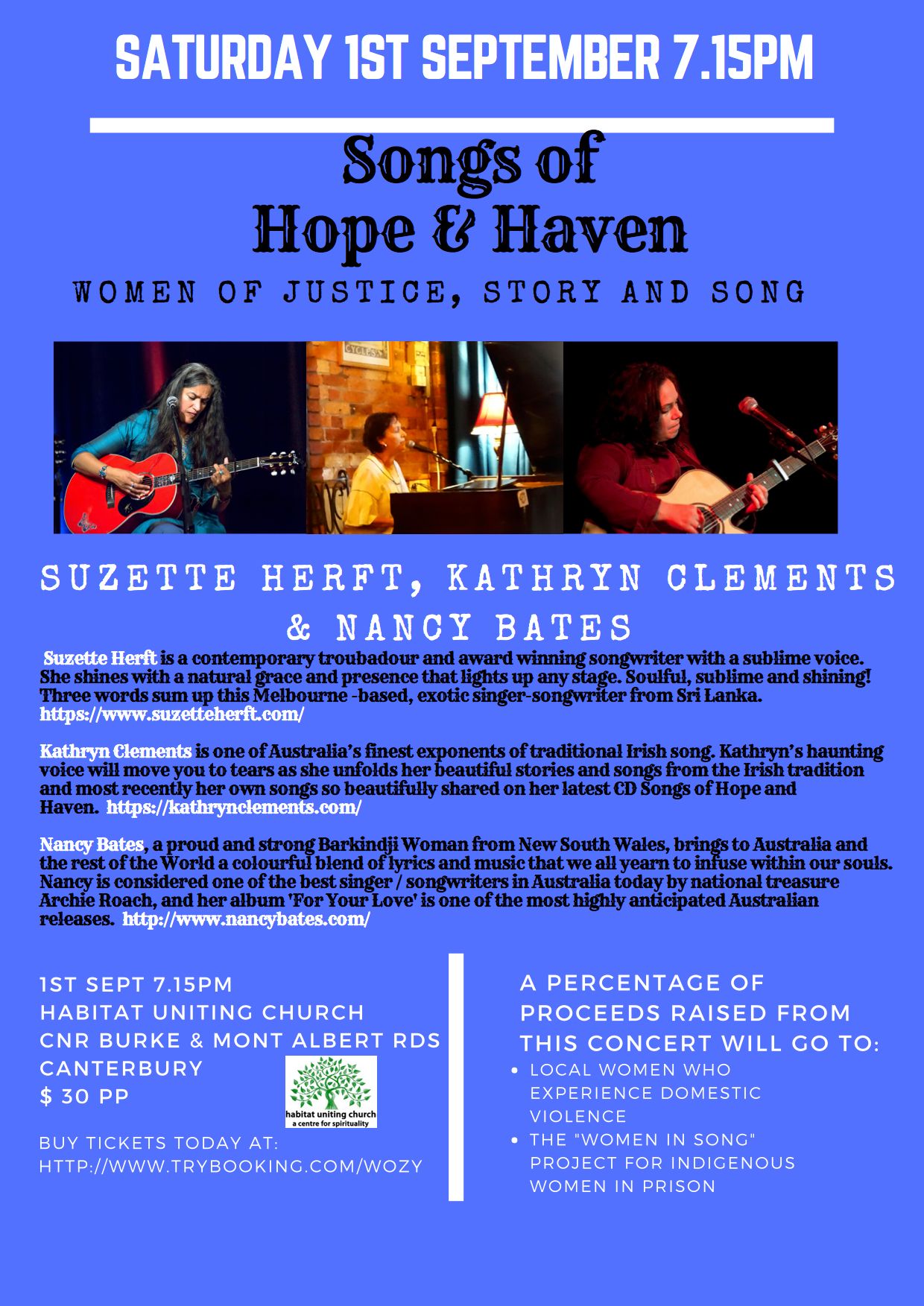 I have also posted a new reflective poem titled 'Seeds' on my Soulful Heart site.  It's about pullling up the weeds of Bitterness and sowing seeds of Compassion.  I hope you can take some time to take a look at it here - The Soulful Heart  I also posted one about 'Choices' a couple of months ago... 
For those of you who would like a holiday on the south coast of NSW, I am headed to Kiama to sing at their beautiful little festival on the weekend of 21st to 23rd September.  This will be the first time I will be performing in NSW and will be driving up hoping to stop along the way and spread some musical joy.  Hopefully, my car will carry me safely there and back, it will be one of the longest drives I have for a while...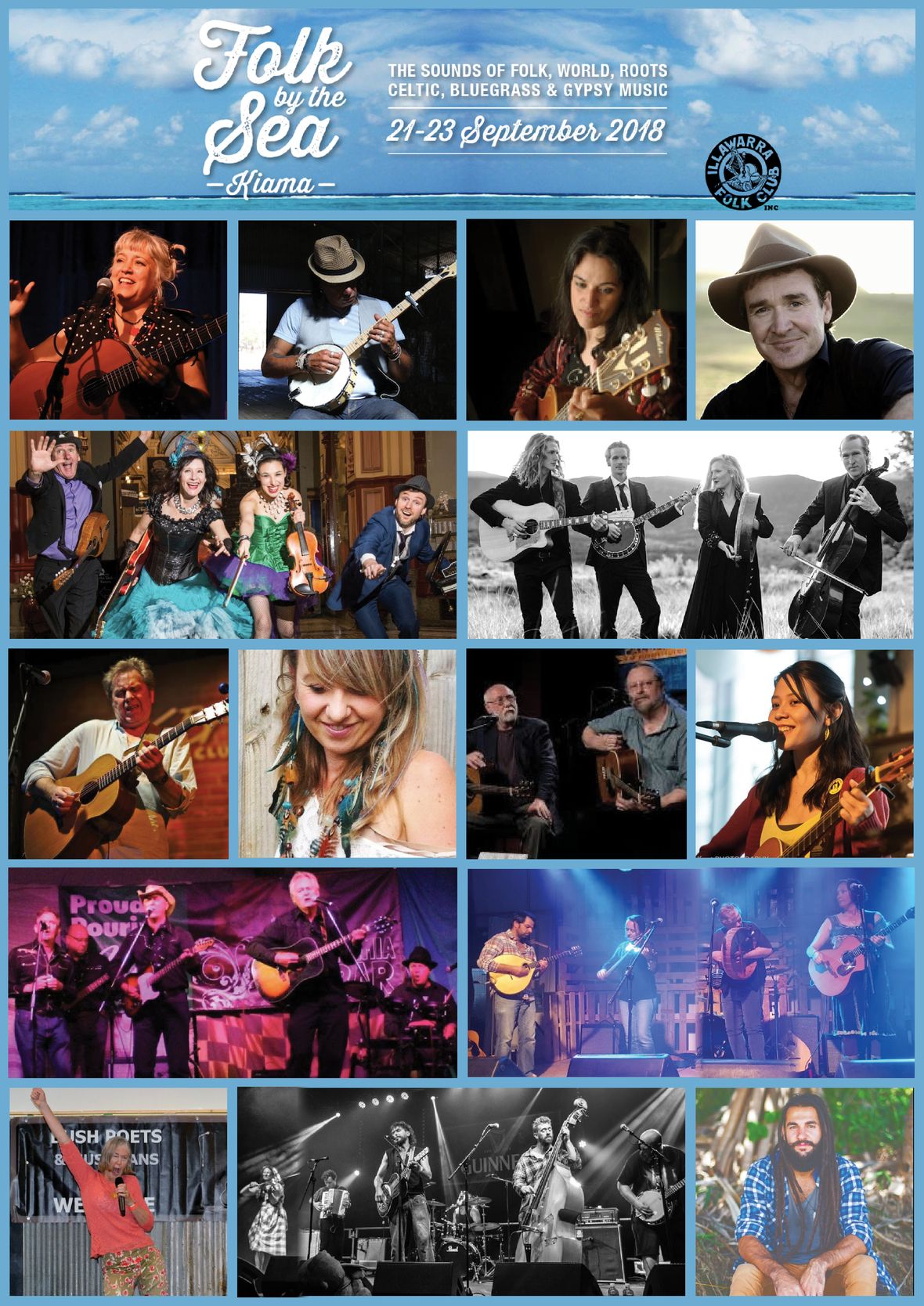 Thank you for taking the time to read through these musings and I hope I can see you soon at some event.  The best way is to check my facebook postings here - Suzette Herft 
May your days be filled with the 'Sweetness' of life, the scent of blossoms, the songs of hope and joy. 
With love and appreciation of your support. 
x Suzette