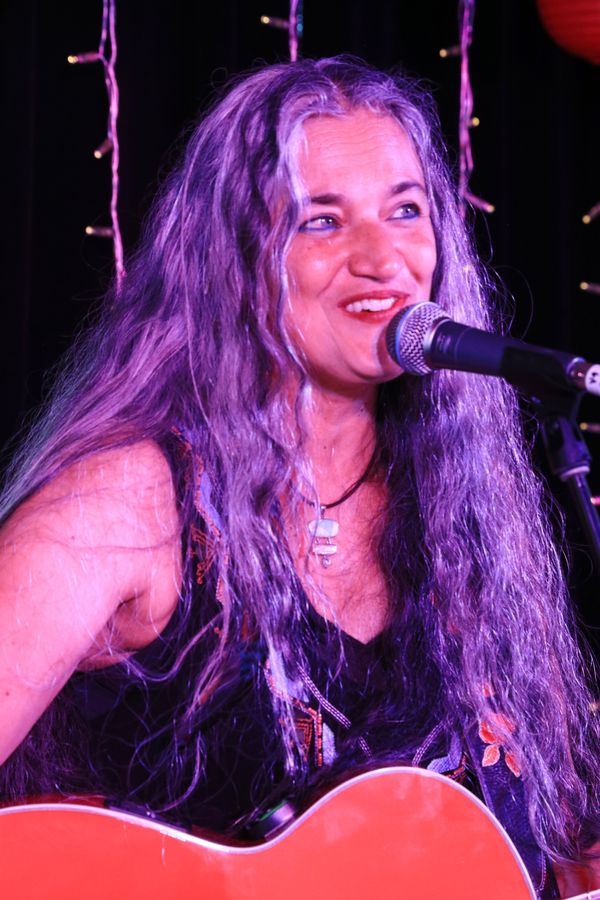 REVIEWS
"I met Suzette at Port Fairy folk festival 2017. She sings from her soul and she glows when she's singing. She's at one with her voice. Her choice of covers blows me away. She suffers no duds. Every song she sings is plucked with precision from her heart."   Mundy (Ireland)
Suzette Herft is an asset to a Festival such as ours in the Tamar Valley, here in George Town.  We are a boutique Festival where friendships are formed and Artists are treasured.  Suzette has the gift of bridging locals and visitors into the festival and has as much joy entertaining locals at the Pub as she does on stage.  Her beautiful presence, her voice,  her words enrich us all and have people asking me to bring her back.  Suzette has ben our Choir Leader  on several occasions and everyone enjoys her friendly style of teaching .  A great Community Singer, wonderful stage performer. A singer /Songwriter to remember.
Christine Atwell Director Tamar Valley Folk Festival 2023
"Suzette Herft is a talented singer/songwriter whose music has a truly universal appeal for the listeners of my show, 'Musical Australiana'. They have been generous in their praise of all her works that I have played. Suzette writes beautiful melodies, and her insightful lyrics tell concise stories about the human condition, with great empathy. In her song, "The Heart", she reveals an incredible rapport with the feelings that our aboriginal folk have for Uluru and the Australian land, especially for one not born here in Australia. Also, her accurate interpretations of songs by Joan Baez and Bob Dylan make them live again, particularly for those of us who heard the originals." Alan Edwards (Musical Australiana) 103.9 Seymour FM
"Joan Baez – quite a challenge for anyone to create a convincing tribute to her music. Suzette Herft has done just that with her tribute show, "Shining - A Diamond in the Rust", which has won accolades, full rooms and standing ovations at Port Fairy Folk Festival these last two years. Suzette owns the essence of the Baez repertoire with a poise, charm, confidence and ease that carries hapless listeners away on the that dreaming trip when music transcends time and place. This is the gift of a very skilled folk singer."
Jamie McKew -Festival Director - Port Fairy Folk Festival (1977 - 2016)

"Suzette Herft is an amazing singer and performer.  She is a true professional and a class act.  Her natural style and grace had the audience fully engaged and wanting more.  I loved her show and recommend her highly to any festival contemplating booking her."
Roger Joseph (Arelmedia Management & Arelmusic.  Former Artistic Director of Cygnet Folk Festival).

"Suzette Herft is one of Melbourne's most enduring singer songwriters with a passion for great music that sees her constantly mixing familiar classic songs with her own unique originals to ensure audiences are thoroughly satisfied and entertained.  Like a great wine she seems to get better and better and even more beautiful with age, and radiates a delightful happy, sunny aura from the stage. I have twice seen her present her epic yet intimate 'Joan Baez Story' and both times brought a spontaneous long standing ovation, a fairly rare event at a folk festival. She rations the number of times she performs this show, but I urge any event organiser to twist her arm to add it to their programme.  Nobody will be disappointed." Andrew Pattison (The Troubadour, Newstead Live! festival director till 2016.)
"Congratulations, Suzette, on your Joan Baez tribute presentation! It was wonderful to be transported through your singing and narration to that pivotal place & time when songs & social issues were so intertwined (and of course, it doesn't hurt that you resemble the young Joan)." 
Margret RoadKnight (Renowned Australian Folk Blues Artist)
"It was a pleasure to be part of this musical experience created by Suzette and Patrick. Their Baez/Dylan segment was thoroughly entertaining and informative and their original songs were simply superb. Suzette Herft and Patrick Evans come highly recommended."
Roger Joseph Arelmedia Management /Arelmusic
"A hot night, with the stage open to the street, people stopped to listen to the voice and songs of Suzette Herft. Performing classics such as Way over Yonder and the timeless Both Sides Now, along with beautifully crafted originals such as Planting Roses and Cinderella Again, Suzette has the the charm and grace to captivate an audience. Tonight she was supported by Patrick Evans and Chris Lazarro and together they gathered the audience and the street, raising a voice to the the genre of gospel, folk and to the city of Melbourne! " George Condos – Mama Vittoria Gig – Melbourne Music

"If there was a voice that could temper a fire and whisper its secrets velvet bound.
If there was a voice that could move a river and finds its warm streams of gold.
If there was a voice that could glide the air and smooth a storm to bring a smile to you, it is the voice of Suzette Herft.
To all who were there to hear Suzette sing her lovely songs I know you left knowing we were treated to a great performance".
(George Condos – Melbourne Music)

SESSION REVIEWS 
  
(SINGING SESSIONS) I must thank you very much for the Quiet Man sessions over the last year. You do a fantastic job there every month, very welcoming, entertaining and supportive to all and we only have to look at the number of people there each month to see how popular and enjoyable the nights are. 
Cheers Bill Field 
  
(SONGWRITER SESSIONS) Thanks to everyone there. It was a great night. I was so impressed by everyone's honesty and the positive, constructive input. It's a very fine balance, and it was struck. Well done Suzette for nurturing this culture. Bruce Watson
"

Enjoyed this tremendously. Whatever you do has depth Suz ! We sit transfixed thru your performances. May you be well always !"
— Prassana Mendis 2019
If you're looking for talent with soul, then look no further." Chris Atwell and the Team (Tamar Valley Folk Festival Tasmania)
"

Thank you for letting us listen to your lovely songs . Just beautiful. I so enjoyed your performance and inspiring attitude."
— Vince Brophy 2019
ROSES – PRESS RELEASE 
  
'ROSES' is the 6th album released by Suzette Herft, a Sri-Lankan born, Melbourne based singer-songwriter.  It is Suzette's first album to consist of purely original material and was produced by the talented and versatile genius of Shane O'Mara. 
  
Shane also added his magic touch via a combination of guitars and other instruments.  He was assisted by Patrick Evans (Suzette's musical partner) on backing vocals and rhythm guitar as well as Ralf Rehak on percussion and drums. 
  
'Roses' is a collection of songs from the highway of life... traversing grief and finding beauty... all amidst jangly guitars, and atmospheric twangy telecaster sounds, echoing the mood of Patty Griffin and the guitar work of our very own Buddy Miller and Ry Cooder (Shane O'Mara). It sits well in the Americana genre with great song writing and sublime vocals from Suzette Herft. 
  
Most of the songs come from a reflection of life following the break up of her marriage…'everything needs breaking down for the seed of life to grow again' (Planting Roses), and Life she does find indeed.  Whilst the subject matter talks about loss, the songs also speak to the resilience of the human spirit.  The song titles themselves sing with spirit and entice you to want to hear the song in its entirety.  From the opening bars of Shane's dark guitar chords, the searing instrumental and Suzette's three part harmonies on 'I Don't Wanna Burn', (one of the standout tracks) to the delicate vulnerability and tenderness of lyric and sparse acoustic guitars on 'Planting Roses', it is a real journey of resilience and hope.  Suzette's voice is rich and strong, tender and vulnerable, able to capture the soul and the sublime essence of each song.  There are no fillers on this album, with each song competing for attention with exceptional song writing, and great production. 
  
Suzette has been performing in the folk scene for many years with her first 3 albums produced by Hugh McDonald (Redgum).  Her 4th album was a live recording of a tribute show to Joan Baez, which has received standing ovations at folk festivals around the country, including Port Fairy Folk Festival in 2014 and 2015.  Her 5th album was a duet album with Patrick Evans titled 'Farewell Angelina' and was released at the Port Fairy Folk Festival this year.  The live recording consists of songs from a show of the same title that focuses on the relationship of the iconic couple of the 60's – Joan Baez and Bob Dylan. 
  
With this 6th album, Suzette has stepped out of her more 'folky' style to get more electric and rootsy and find the more sultry side of her voice. The album fits snugly into the 'Americana' genre and would sit comfortably alongside the likes of Patty Griffin, Emmylou Harris, Lucinda Williams and Julie Miller just to name a few.  'Roses' is a worthy addition to your collection of beautiful women singer – songwriters.
'ROSES'  -  WHAT HAS BEEN SAID SO FAR….
 
NICE WORK on your new album! Shane has done a beautiful piece of work with you. Your voice is brilliant and it's a really strong set of songs. x Bill Jackson
 
Just a moment to reflect on the musical brilliance of Suzette Herft. Her new album Roses is the most uplifting, relatable, heartfelt and honest album I've heard in a really long time. Her songwriting beautiful and poetic, you can feel every emotion in her voice because she is singing her truth. My personal favourites 'I don't wanna burn', and 'Planting Roses' in which the chorus reaches into my chest and squeezes. Inspirational Suzette!  You belong on a stage full time. Jarrod Casperz
 
I have just had the opportunity to listen to the latest release from Suzette Herft "Roses". Oh boy and what a treat, a refreshing and eloquently crafted selection of songs. 
In the tradition of great Americana singer song writers (Patty Griffin, Lucinda Williams, Gillian Welsh and Buddy and Julie Miller, just to name a few) Suzette takes you on a sublime journey of discovery and wonder with songs straight from her heart.
Melting and Melodic her mellifluous voice is seamless and like a great red wine will warm your heart and soul with her expressiveness and harmonies. Patrick, Shane and Ralf shine on the album. Rhythmic and organic drums together with atmospheric guitar interplay blend to produce a kaleidoscope of sound which dance on your ear follicles.
"Roses" is irreproachable and sincere in its delivery, a reflection on life itself, warts and all. Inspiring stories of Love, Death, Life and Joy shrouded in vulnerability so palpable that I urge anyone who listens to it not to be moved in some way.
Well done Suzette, "Roses" is a real gem. I wish you all the best with it… don't ever stop. Melbourne should be proud of you, look out Nashville. Can't wait for the Album launch.
Martin Gale
 
'Roses' is the 6th album released by Sri Lankan born singer-songwriter Suzette Herft. Her first album featuring only her own beautiful original songs, produced by the talented Shane O'Mara. Shane also added his magic touch via a combination of guitars and other instruments. He was assisted by Patrick Evans (Suzette's musical partner) on backing vocals and rhythm guitar as well as Ralf Rehak on percussion. With this 6th album Suzette has stepped out of her more 'folky' style to get more electric and rootsy. What a treat for us she did! 'Roses' is a fine addition to your collection of beautiful women singer-song writers. (Basement Discs)