Shining: A Diamond in the Rust - A Tribute to Joan Baez
A celebration of the life and times of one of the most inspiring and incredible singers in our lifetime.  Known as the 'Madonna' and the 'Queen of Hearts', Joan Baez captured our hearts with her beautiful voice and her strong commitment to non-violence and social justice.
 
Shining – A Diamond in the Rust is a tribute to this great artist who has celebrated 
more than 50 years of public performance.
This show weaves together the stories and songs that made this woman a folk-icon and a warrior of the light.

Suzette has received numerous accolades for her very moving performance and has received standing ovations at every festival where this show has been performed. She received a rousing standing ovation at the 2014 and 2015 Port Fairy Folk Festival to a capacity audience. 
Review - Trad & Now Magazine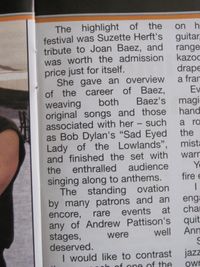 "Joan Baez – quite a challenge for anyone to create a convincing tribute to her music. Suzette Herft has done just that with her tribute show, "Shining - A Diamond in the Rust", which has won accolades, full rooms and standing ovations at Port Fairy Folk Festival these last two years. Suzette owns the essence of the Baez repertoire with a poise, charm, confidence and ease that carries hapless listeners away on the that dreaming trip when music transcends time and place. This is the gift of a very skilled folk singer." 

Jamie McKew (Festival Director - Port Fairy Folk Festival)

Congratulations, Suzette, on your Joan Baez tribute presentation! It was wonderful to be transported through your singing and narration to that pivotal place & time when songs & social issues were so intertwined (and of course, it doesn't hurt that you resemble the young Joan).  

Margret RoadKnight (Renowned Australian Folk Blues Artist)
This is me following in the footsteps of Joan Baez - singing in the rally to bring the refugees stranded on Manus Island back to Australia.  "We shall not be moved"