Dear Friends, 
I started off the year thinking this would be my 'slow down' year... but instead, I've had a very busy time over the last few months -  starting in January with the lovely little festival in Georgetown, Tassie... then in our own lovely town of Newstead... Somewhere in early Feb, my son and I headed off to Sydney, to view the Dutch Masters exhibition, plus see the sights.  I am not that familiar with Sydney having only been on a weekend a couple of times, and Christopher hadn't been since he was a wee babe of 9 months.  For me, the highlight was doing the walk from Coogee to Bondi... I loved it!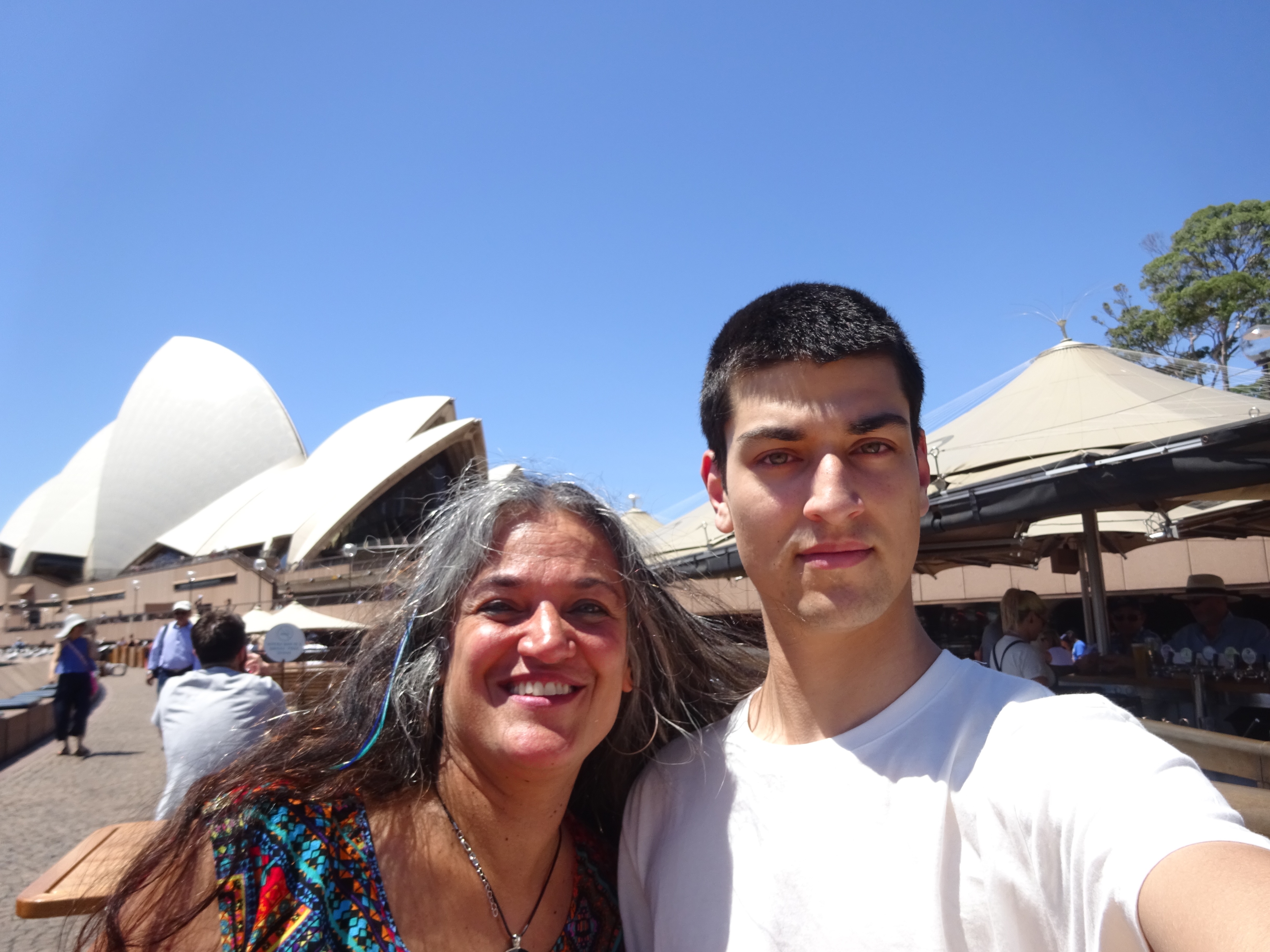 March is upon us and has nearly disappeared itself - but I did go to Port Fairy Folk Festival as a volunteer, and took with me Genevieve and a friend of hers.  It was the first time she had been too since she was a babe and she loved it as much as I did (and do).  My highlight was singing on stage with the amazing and humble Ben Waters Band (Ben is the best boogie piano player in the world, and has played with Jerry Lee Lewis and the Rolling Stones).  He called me up to sing a song in the Shebeen - it was so packed with people dancing right up to the front of the stage.  I reckon I sang to about 1000 people, who sang along with me to 'Ring of Fire'.  Genevieve and her friend joined the lovely percussionist and got to play the tambourine on the stage while I sang.  They had a ball!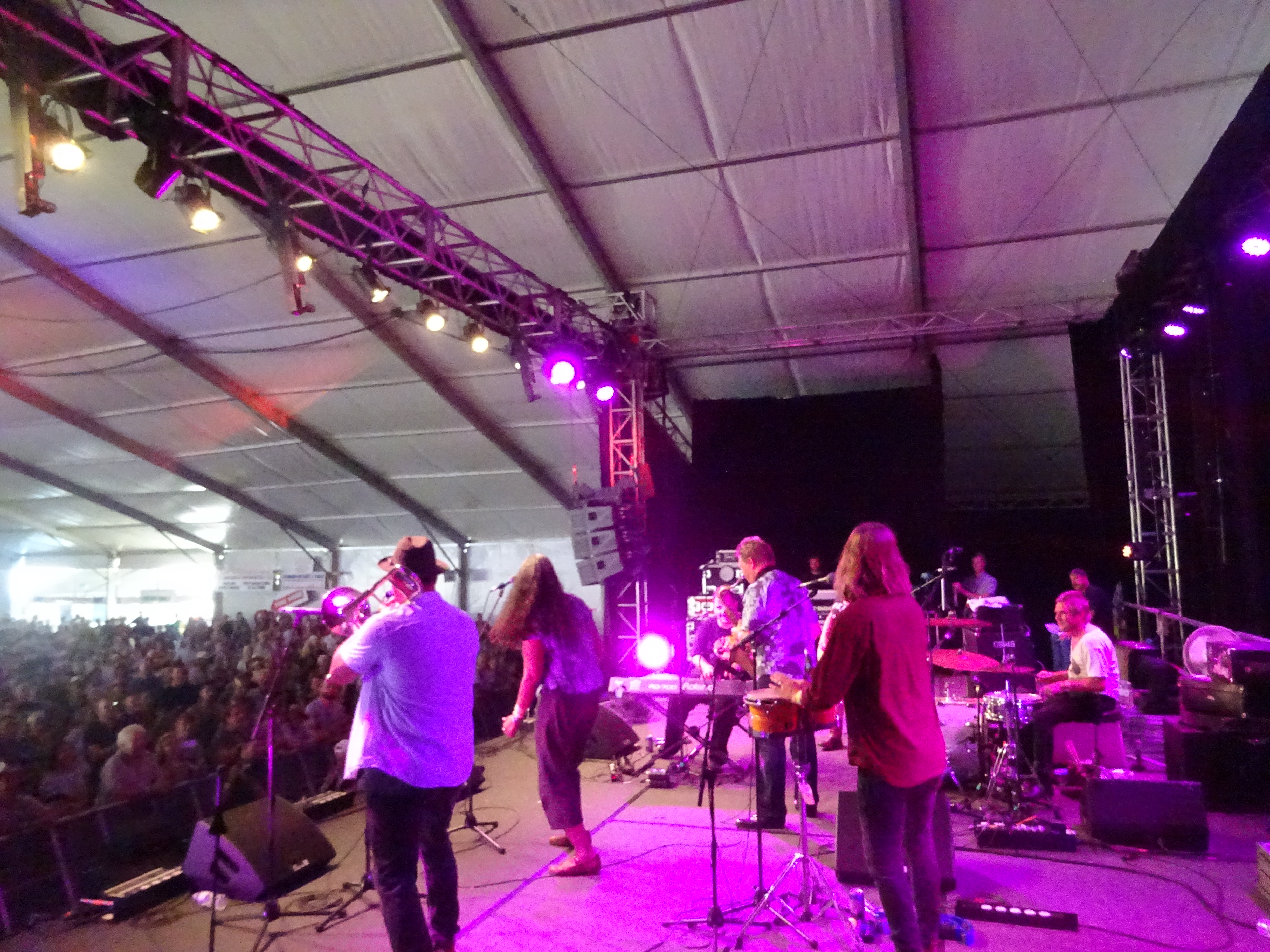 I haven't had any time to post any photos of anything really on my Facebook site (for those of you who are on it), but I look forward to having some quiet time to do some catching up ... not sure when, as I am heading off to cyclone torn Darwin at Easter for a change from the National Folk Festival.  The last time I was in Darwin, I celebrated my 31st birthday. 
It has been quite a creative time too.  I have written about 8 songs since December.  Again, this newsletter was delayed because I got caught up writing a song after clearing up the dinner table.  I had a line in my head when I woke up yesterday morning... and I quickly scribbled it down with a few others, delaying my morning routine, and rushing off to work a little late.  And tonight, I pulled out the guitar to practise for my gig coming up on Sunday, but got a little musical riff in my head... put it together with the words, and two hours later... I have another complete song.  So the creative juices are definitely flowing.  No wonder I feel tired juggling work, home, music, writing... but I wouldn't swap it.  I just need more sleep. 
I have been to a lot of gigs too and caught up with a lot of friends and look forward to seeing many more new artists... So time to plug a few things that you might be interested in. 
Starting off with the Quiet Man session (Racecourse Rd, Flemington).  It is on tonight - Wed 21st Mar.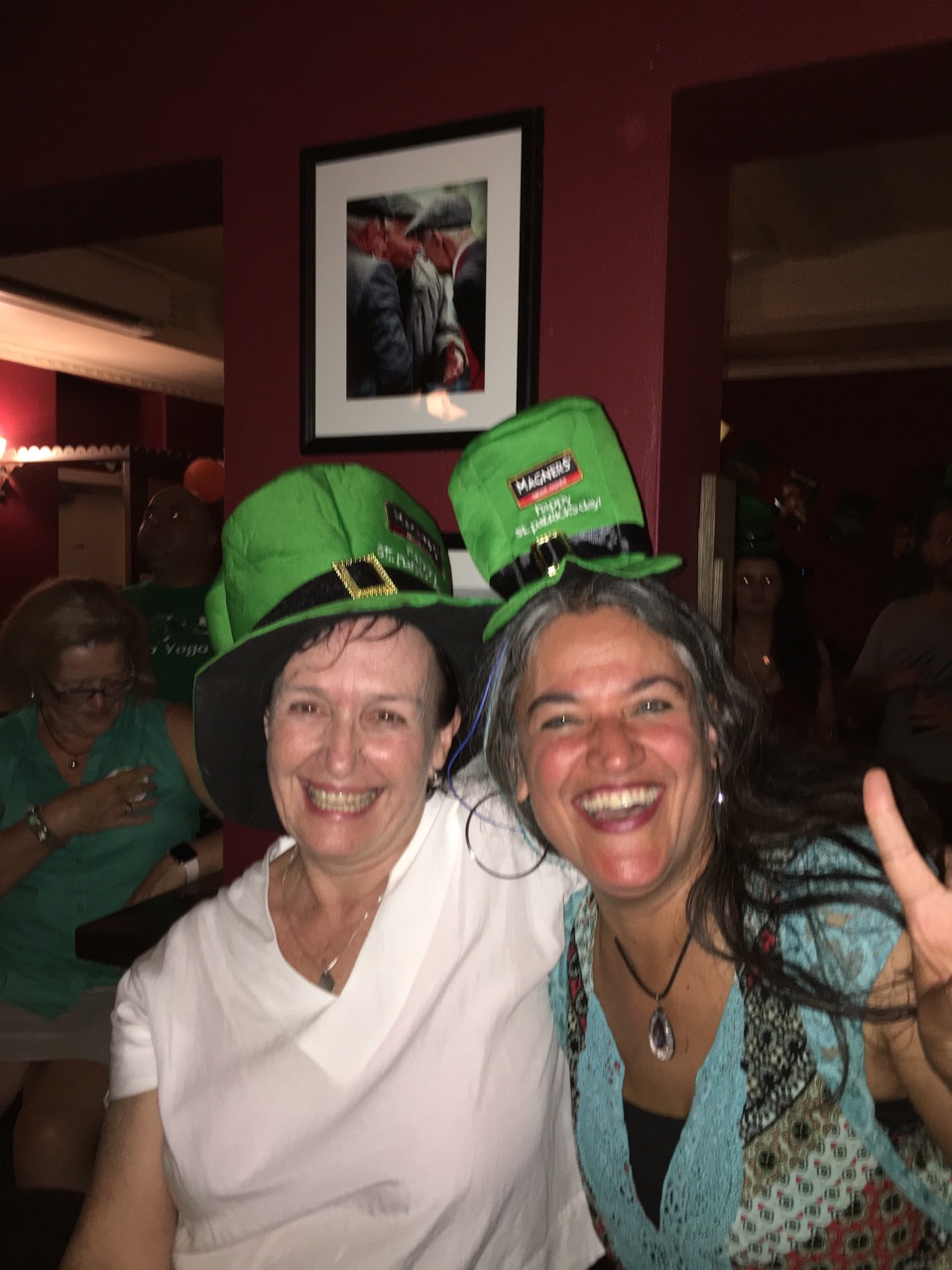 Here is a photo of Kathryn and me celebrating St. Pat's day.Then on Sunday 25th Mar at 2pm, I get to share the stage with another beautiful, soulful singer-songwriter, Khristian Mizzi, who is receiving rave reviews, at another beautiful location - St Cuthbert's in Menzies Creek.  Details are on the flyer.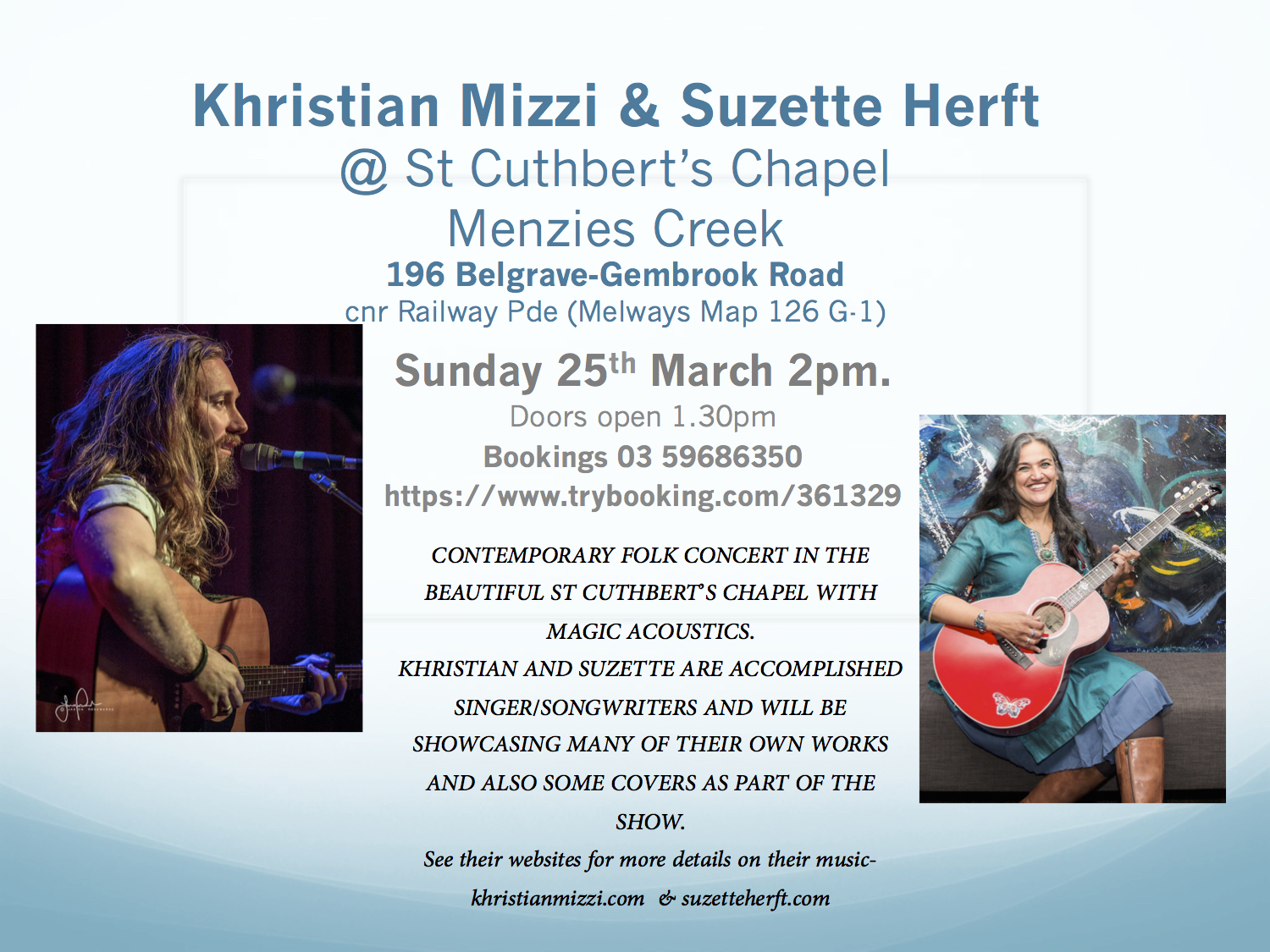 I am so looking forward to it, and our host Steve Holmes, would like us to do a couple of covers together and has suggested some Leonard Cohen... It will be totally spontaneous, but I am looking forward to the collaboration with Khristian.
Finally, if I am in one piece after the Darwin cyclones, I get to visit a favourite little venue at the Peninsula Folk Club (Frankston Bowls Club) on Sunday 8th April.  Details are on the flyer as well.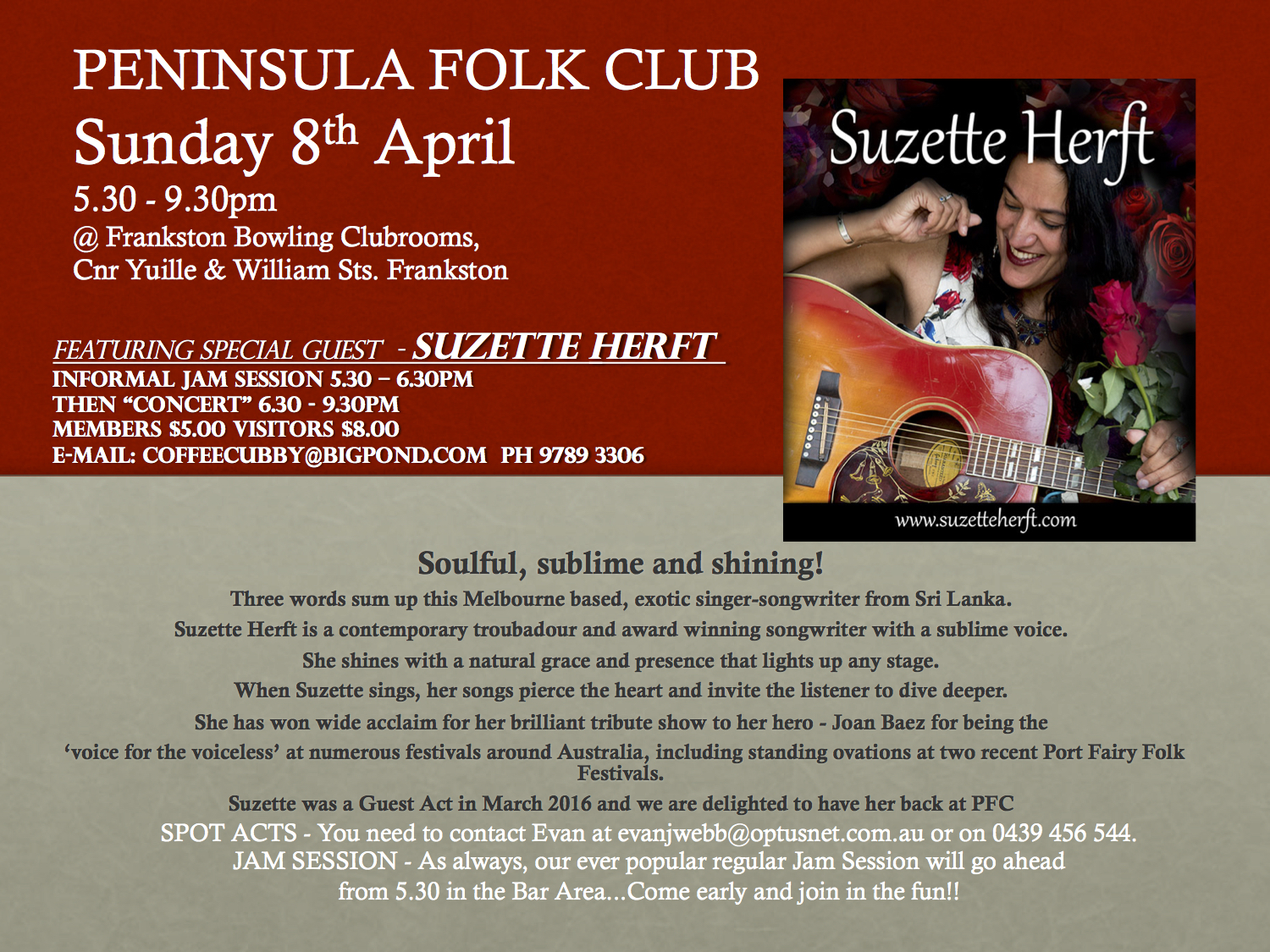 I have also been blessed with a few phone calls and will keep you posted about future gigs.  I also have a couple of poems on my other website 'The Soulful Heart', if you are interested in reading, with a couple of links to songs.  I have a couple of poems to add... If only I didn't need sleep!
So goodbye for now and I hope that you get some time to slow down and rest over Easter.  Hopefully, I will get to see some of you at these above gigs or in the near future. 
With blessings and love, 
Suzette x